Projects
Caravaggio's Last Two Paintings
The Metropolitan Museum will host a painting by Caravaggio owned by the Banca Intesa di San Paolo in Naples.
April 10, 2017 - July 10, 2017
Caravaggio (Michelangelo Merisi) (Italian, Milan or Caravaggio 1571–1610 Porto Ercole)
The Martyrdom of Saint Ursula 1610 Oil on canvas Banca Intesa di Sanpaolo (Palazzo Zevallos, Naples)
According to legend, Saint Ursula traveled with 11,000 virgins to Cologne, Germany where the chief of the pagan Huns besieging the city fell in love with her. When she rejected his advances, he killed her with an arrow. In this haunting depiction, Caravaggio places the two figures improbably close to each other, maximizing the contrast between their expressions: Ursula's perplexed gaze at the agent of her martyrdom; the tyrant's conflicted reactions of rage and guilt. Caravaggio includes himself as a spectator, straining for a glimpse, while another figure thrusts his hand forward in an abortive effort to prevent the saint's execution. The exaggerated contrasts between dark and light seem not merely a dramatic device but a symbolic allusion to sin and redemption; death and life.
---
Cagnacci, Cleopatra Morente, 1655-60
Pinacoteca di Brera, Milan
Italian Cultural Institute, New York
December 2, 2016 - January 19, 2017
---


Raphael's Portrait of a Lady with a Unicorn
Cincinnati Art Museum, Cincinnati, Ohio
October 3, 2015 - January 3, 2016
Fine Arts Museums of San Francisco, San Francisco, California
January 9, 2016 - April 10, 2016
---
May 13, 2014 to July 20, 2014 The Frick Collection, New York
July 26, 2014 to October 5, 2014Fine Arts Museums of San Francesco/de Young/Legion of Honor
Parmigianino's La Schiava Turca is now housed in the Galleria Nazionale di Parma but at one time was owned by Leopoldo de Medici and later resided in the Uffizi Gallery until 1928. It is listed in the Ufffizi inventories (1704 and 1890), and described as a "Portrait of a young woman with a turban on his head, with his left hand holding a plume of Parmigianino's hand."
It is suggested that the title was given due to the turban on her head, however, the exotic headdress was in fact typical of the noblewoman of the same period as seen in other contemporary portraits.
---
Piero della Francesca: Personal Encounters
January 13, 2014 – March 30, 2014The Metropolitan Museum of Art
Through the special collaboration with the Gallerie dell'Accademia, Venice and the Galleria Nazonale delle Marche, Urbino, the Metropolitan Museum is hosting a focused exhibition on the devotional paintings of Piero della Francesca: Intimate Encounters.  This is an exhibition of only four works, but they have never before been brought together; none has ever been shown in the USA; and the theme of Piero's work for private devotion has never been addressed. This is, therefore, an exhibition that promises to make an important contribution towards the study of this major figure of the Renaissance. The exhibition is sponsored by the Foundation for Italian Art and Culture.
---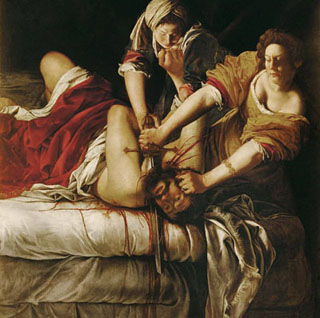 Judith Slaying Holofernes, Artemisia Gentileschi c. 1612
October 17, 2013 – January 9, 2014, The Art Institute of Chicago
Violence And Virtue: Artemisia Gentileschi's Judith Slaying Holofernes From Florence
In Fall 2013, the Art Institute of Chicago in collaboration with the Foundation For Italian Art and Culture (FIAC) will open an important exhibition focused on Artemisia Gentileschi's masterpiece, Judith Slaying Holofernes from the Uffizi Gallery, Florence, Italy. Informed by the Old Testament Apocrypha of Judith, Artemisia Gentileschi's painting represents the decisive moment of the narrative—when the Jewish heroine Judith savagely decapitates the Assyrian general Holofernes to save her people. Rather than focusing on the ideals of beauty and courage also inspired by this story, like many other Italian artists, Artemisia chooses to depict the most dramatic and bloody moment of the story. Her depiction of Judith as a dauntless manslayer has generated heated debate about the artist's intentions and persona. To help explore these questions, a selection of paintings, drawings and prints on the theme of Judith from the Art Institute's collection will also be on display. Highlighted by this exceptional loan from Italy, this exhibition will explore the historical importance of Artemisia Gentileschi, as well as the Judith theme in art history.
---
La Bella (Woman in a Blue Dress), Titian (Tiziano Vecellio) c. 1536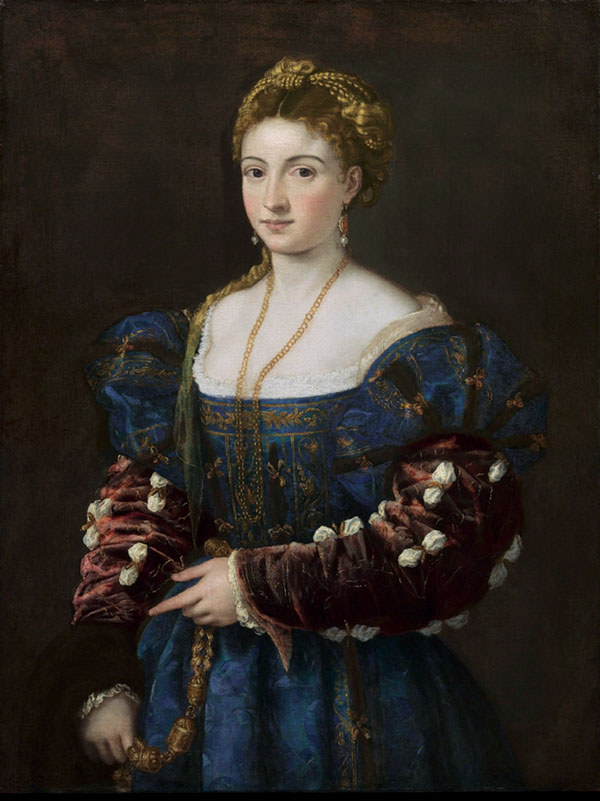 Kimbell Art Museum, Fort Worth July 22–September 18, 2011
Nevada Museum of Art, Reno September 23–November 20, 2011
Portland Art Museum, Oregon November 25, 2011–January 29, 2012
It is the ongoing mission of the Foundation for Italian Art and Culture (FIAC) to help bring outstanding Italian works of art to audiences throughout the United States. There is no more delightful masterpiece of Italian painting than Titian's La Bella, and we are proud to have played our part in making possible its exhibition at the Kimbell Art Museum in Fort Worth, Texas, the Nevada Museum of Art in Reno, and the Portland Art Museum in Portland, Oregon. In 2009 we worked with our friends in Reno and Portland in presenting another of the ravishing beauties of Italian Renaissance painting, Raphael's La Donna Velata. We are very happy to continue the collaboration, and also to welcome the Kimbell Art Museum to its first FIAC partnership.
The most celebrated artist in Renaissance Venice, Titian is unsurpassed as a painter of beautiful women. One of his most iconic creations is popularly known as La Bella—the beautiful woman. The painting was first owned by Francesco Maria I della Rovere, duke of Urbino, a mercenary military leader. In 1536 the duke sent a letter to his agent in Venice inquiring about the progress of the "portrait of that woman in a blue dress," whose completion he eagerly awaited. The painting in question was doubtless La Bella, which is today in the collection of the Galleria Palatina, Palazzo Pitti, in Florence. Its recent cleaning and restoration have revealed the splendor of the woman's blue dress and the luminosity of her flesh.
---
La Donna Velata, Raphael, c. 1516

Istituto Museale della Soprintendenza Speciale per il Polo Museale Fiorentino
Portland Art Museum
October 23, 2009 – January 3, 2010

Arte Italia & The Nevada Museum of Art
January 9, 2010 – March 21 2010

Milwaukee Art Museum
March 26, 2010 – June 6, 2010
La Velata, also known as La Donna Velata or The Woman with the Veil, is one of the most important paintings of the High Renaissance. Its rich history is characterized by mystery and intrigue: one of the "rumors" among scholars is that the woman portrayed was Raffaello's lover Margherita Luta, who also appears as a model in other important works, such as La Fornarina. Another rumor suggests that this painting was Raphael's answer to Leonardo's Mona Lisa.
---